Chinese Bilingual Legal Secretary/Paralegal
Address: Pasadena, CA 91101
Job Type: Full-time
Start Date: Immediately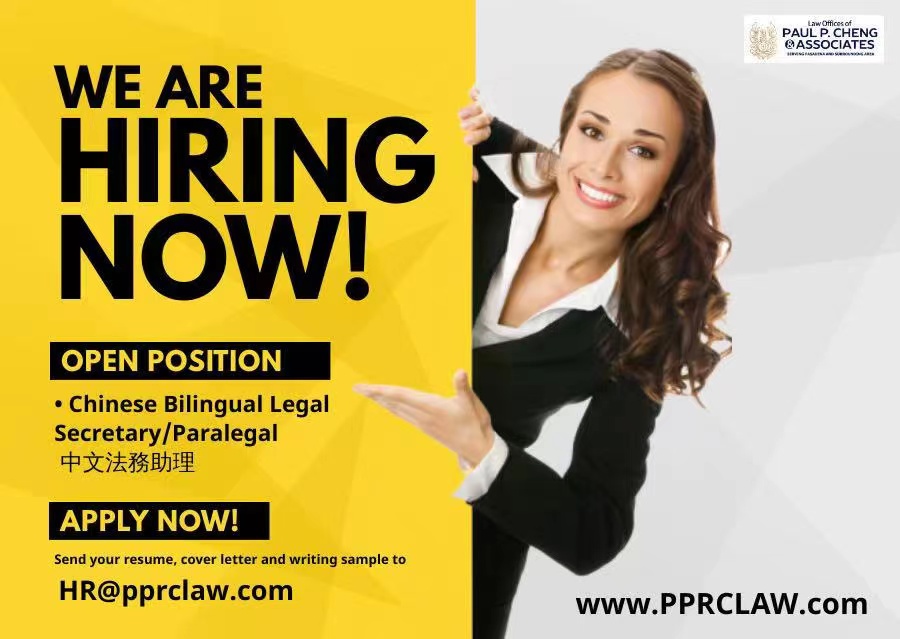 Job Description:
Rapidly growing law firm in Pasadena seeks a legal assistant to start immediately. Candidates must possess exceptional written and verbal communication skills. The work environment is fast paced and requires a professional who can manage a multi-line phone system with flawless composure on top of assisting the attorneys. Above all, the candidate must bring an engaging personality to allow for successful interactions with a diverse staff. We are looking for a bilingual legal secretary and paralegal that have an excellent command of the English language. Paper pushers are not welcome because we fully intend to train anyone to write motions that are submitted to judges immediately.
Candidates must work under pressure and be a deadline oriented person.
1) Minimum of an associate or bachelor's degree from a regionally accredited college or university. Law degree preferred.
2) Strong organizational skills and team player
3) Ability to multi-task, and handle changing priorities.
4) Strong written and oral communication skills. Strong technical skills in word processing and database management. Experience with Excel.
5) Motion writing is a plus.
6) Fluent in Mandarin. (Read and Write)
7) Trial skills, while not required, is a big plus.
8) Excellent interpersonal skills and ability to work in a team environment.
9) Maintain company standards in appearance, attendance, manners and ethics
We seek dedicated candidates who are self-motivated, detail-orientated, and team players. Our law firm is an equal opportunity employer and we are committed to diversity through its recruiting and retaining of individuals of all backgrounds and cultural experiences.
Please email your:
1) resume in MS Word format;
2) writing sample; and
3) cover letter
Any person that fails to submit all three will not be considered.
(Please send your resume, cover letter and writing sample to HR@pprclaw.com)
Thank you!